Products
Industrial Laundry Machines
Industrial Washing Machines
Features
Capable of washing all types of fabric and laundry linen
Complete stainless steel front 'inner basket and outer drum-all highly polished stainless steel
Easy loading & unloading through toughened glass door
The machines stops automatically on opening the door
Full stainless steel side plates, outer cashing inner cylinder, chemical dispenser, front, slides and buck panels
Automatic timer, auto reverse, auto digital temperature control with electric steam solenoid valve. All controls at front. Control box easily accessible. Optional: Variable frequency inverter drive for required cycle speed.
Powerful drive. Multi groove V belt primary drive. Heavy duty final chain drive. AG-3000 series has both- end chain drive. Easy belt & chain tightening arrangement. Easy to maintain. No speed loss.
Technical Specifications
Low spin model also available
Washer Extractor : Technical Specifications
* Forward and Tilt model also available
Drying Tumbler
Features
Stainless steel inner cylinder, glass wool insulated outer body duly powder coated. Electrical interlock door. Total front & back service. No space required on sides of the machine
Steam/electric/thermal fluid/diesel radiator. Steam/thermal fluid radiator is with copper coils & aluminum fins. Electric heater made out of coils and aluminum fins for steam fin type air heating elements for electrically heated machines.
Electric controlled instrumentation & protection provided for auto timing, auto reversing and auto digital temperatures controls. Protective devices against single and reverse phasing and motor overload All controls front displayed with pilot lamps
V-Belt and pulley drive for low torque and high speed.
Self-cleaning lint screen droop lint automatically after every cycle.
Centrifugally balanced suction blower and is mounted directly on to the motor.
Automatic timed. Auto reverse. Auto digital temperature controls. Steam heated models have electric steam valve with steam trap & bypass assembly.
Technical Specifications
Hydro extractor
Features
Stainless steel basket Double walled glass wool insulated outer body.
Optional S.S. outer drum. Sturdy welded construction.
Facility to dismantle basket without dismantling the outer casing.
Electrically interlocked top lid stops the machine when opened.
Outer casing is mounted on M.S heavy base frame, hot painted.
Drive: Directly mounted basket on a specially designed high torque, heavy duty motor which rests on the spigot of the base frame. Provided with built in rubber buffer cushion to enable self balancing.
V- Belts. No loss of speed. Quick self balancing. Noise less and Vibration free performance charge after charge.
Electrically controlled instrumentation and protection for auto timing and automatic D.C. injection for braking. Protective devices against single & reverse phasing and motor overload.
Technical Specifications
Calendering Machine
Aura Rotary Ironers are especially designed to provide advanced bulk ironing solution for the textile and laundry industry. This state of the art machine gives very high productivity with optimum ironing results. Advanced temperature controllers prevent damages to delicate fabrics as the temperature variations are minimized to negligible levels.
Features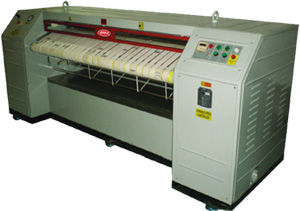 Flexible chest designed to give uniform pressure between the roller and the chest.
Single roll with air mounted ironing chest.
Adjustable ironing pressure.
Perforated rollers with suction features.
Temperature up to 180 degrees Celsius.
Automatic Digital Temperature Control.
Gear Box and chain drive.
Variable roller speed.
Complete with drive motor, suction motor, air cylinders, electro pneumatic valves, steel wool padding, full length stainless steel feed table, SS collection, tray and built in electric control panel.
Technical Specifications
Roller length from 60" to 120" available in all the 3 models
Dry Cleaning Machines - Redefined
We would like to introduce a Korean Dry Cleaning Technology that is more advanced, much more cost effective and eco friendly than Perc Dry Cleaning Machines. In Korea and many other countries PERC technology has become obsolete due to its toxic and non environment friendly nature. This machine is much more economical in the long run.

The Solvent of this machine is Exxol 40D( Exxon) or Sarasol 40 (Shell) and are much cheaper than PERC and easily available everywhere. Just like PERC, they can be recycled continuously and after wash it is returned to tank after mesh filtering and resent to the drum through housing filter for the next wash.

Besides being eco friendly, these machines are also very cost effective and give excellent cleaning results.

The user can program up to 4 different courses according to the types and materials of clothes to be cleaned. The settings such as washing method and timing can be differently set for each process. The status of each process can be monitored by the LED display and in case of error; error message will appear on the display. The process status can be seen by the LED display and in case of errors; the error message will be displayed to the user. With many more advanced features, these machines are running very successful internationally.
Dry Cleaning Machines : Technical Specifications
Drycleaning Machine, MTO, Front Loading,Open Pocket with Low spin Extract & Built in Solvent Filter, Automatic.
Stainless Steel inner cylinder & stainless steel loading door. Automatic cycle time. Adjustable reverse-forward time. Continuos MTO solvent filter for reuse. Large Storage & filter tank. Powerful centrifugal filter pump. Complete with built-in electric control panel & seperate motors for drive & extract.
Laundry Trolleys
Washroom Trolleys
Mobile Tables

Shelf Trolley
Ironing Table
Our Products
Enquiry
Certificate
View Certifications